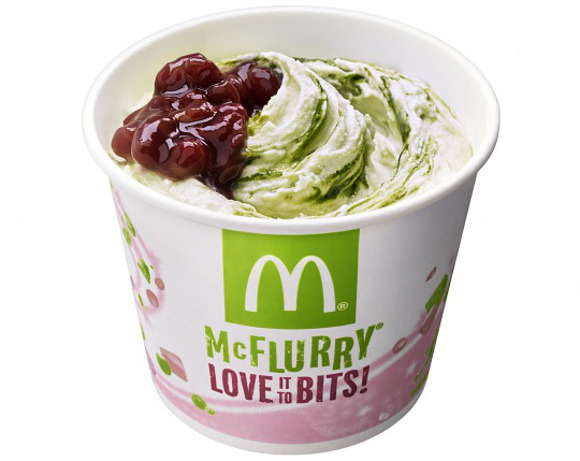 We're continuing right back on the #MatchaTour2016 trail after a long hiatus with a review on the Limited Edition Uji Matcha Adzuki McFlurry from McDonald's Japan.
If you recall I had a less than perfect experience with the KFC Matcha Krusher, but I was willing to put my heart on the line once again with McDonald's. Do I find true matcha love? Let's find out!
FIRST IMPRESSION: One thing I absolutely love about McDonald's in Japan- gosh darnit if what you order doesn't look just like picture. It was lovely. I think it was around 2.80 yen (maybe around $2.50 USD).
TEXTURE: Ahhh. The glorious texture of milky soft serve with soft red bean. It was really nice.
TASTE: 10/10, guys. I loved this. It was just sweet enough with a distinct matcha taste, and that red bean flavor paired perfectly with it. Unlike the Krusher, it wasn't overly sweet or crunchy. I'm even writing this review a few months later and I am STILL thinking about how delicious it was.
IF I MADE IT MYSELF: I wouldn't change a thing. Maybe I would add a dusting of matcha powder on top just to add to the bitterness and presentation. This is what I wrote about the aformentioned Krusher on this section, and it oddly enough applies perfectly to this situation: "I would use a matcha vanilla twist soft serve base (like the bitter kind you can get in Kyoto or other special vendors). Then put some not-too-sweet azuki on top rather than mix it through out, so that the customer could choose to blend it or not later (it also looks pretty). Lastly, by the maker, I would leave those minty things out. Haha."
FINAL IMPRESSIONS: It was heaven in my mouth. And easy on the wallet, too. I was almost tempted to order another one right after finishing it.
Keep an eye out for any matcha treats I decide to review next! Do you guys have any favorites or treat on your to-try list? Let me know!