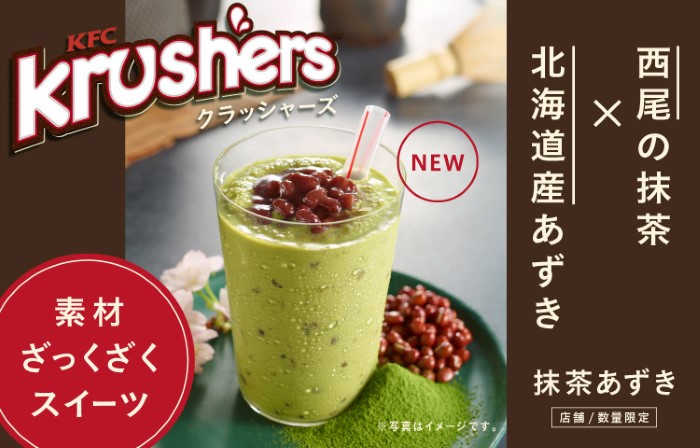 Let me preface this review with a bit of backstory: I love everything about matcha. The bitterness, the color, the texture- it's all wonderful. This love is also linked to my fascination with the Japanese tea ceremony and the philosophy behind it. To me, drinking a cup of matcha is like experiencing a small taste of wabi sabi. Anyways, I'm sure you get my point already. I like matcha.
So when I caught wind of all the new matcha-flavored treats arriving to Japan this spring, I was overjoyed. I was especially excited to try the new Matcha Azuki Krusher from KFC. Matcha AND Red Bean in one delicious milkshake? I'm in heaven! Unfortunately, one thing I've noticed since I've come to Japan is that just because something says "matcha" on it, doesn't mean it's going to taste like a good ole cup of tea ceremony matcha. I don't mind if it's a bit sweet (even though I prefer bitter with a splash of milk), but some varieties have tasted like not much more than green sugar syrup (on this note, Glica Matcha Lattes are wayy too sweet, but Lipton Matcha Lattes are pretty nice). For those who have never tried matcha, the best comparison I can think of is encountering that horrible fake banana taste when you were expecting real banana instead. It's truly a heartbreaking experience! So I was understandably a bit hesitant to try this one.
FIRST IMPRESSION: It looked a bit lighter than in the picture, and there was no dollop of red beans on top, but I'm not picky about things like that. I was looking forward to the taste! You can also get a premium version with whipped cream and what looked like a dusting of kinako on top, but I opted for the cheaper 350 yen version.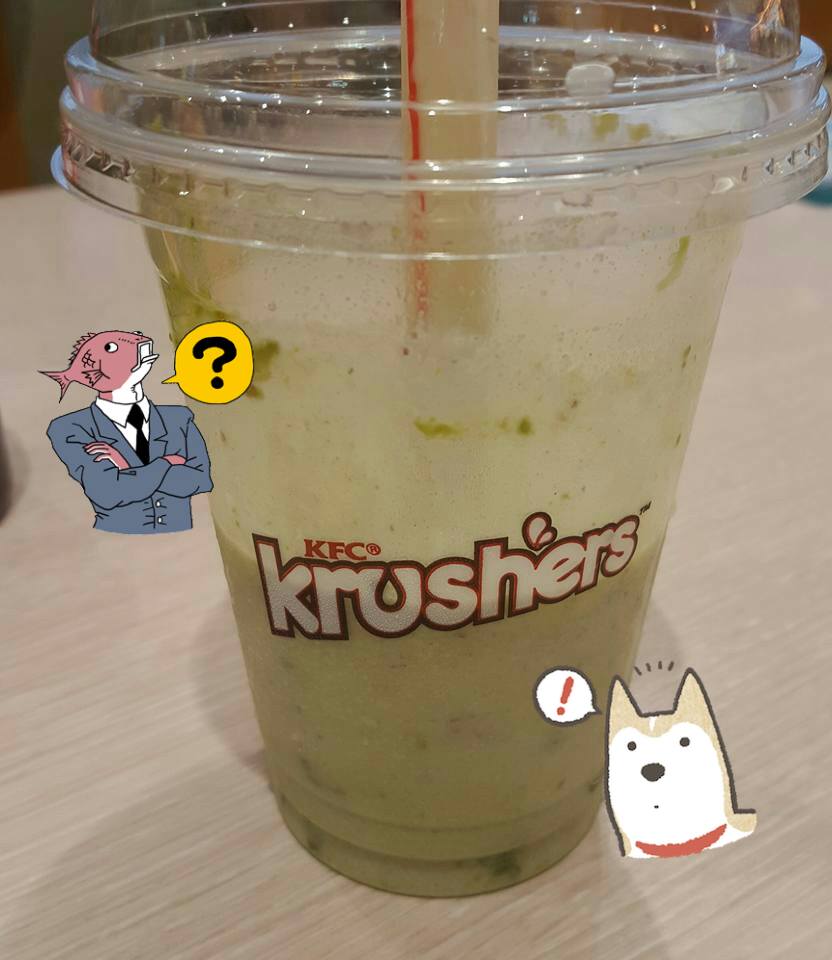 TEXTURE: Cold and creamy, but sadly not like soft serve (which is what I was quietly hoping for, dangit). It was kind of thin. The chunks of red bean are nice and soft, until you encounter some sort of  hard crunchy sugar particles clinging near it. I really didn't like that, mostly because of the flavor (see below).
TASTE: Well, I am sorry to say it, folks. It wasn't super matcha-y, and was extremely sweet. Some people might like that, though! The very first sip was tasty and mixed well with the red bean (though the red bean tasted like it was saturated to the brink with sugar), until I encountered a bizarre chunk of crispy spearmint flavor. I don't know if this is just my American tastebuds, but my mind was really rejecting that combo. Every time I encountered a red bean, I seemed to crunch a strong spearmint thing with it. This alone made it difficult to enjoyably finish the otherwise fine shake.
IF I MADE IT MYSELF: I would use a matcha vanilla twist soft serve base (like the bitter kind you can get in Kyoto or other special vendors). Then put some not-too-sweet azuki on top rather than mix it through out, so that the customer could choose to blend it or not later (it also looks pretty). Lastly, by the maker, I would leave those minty things out. Haha.
FINAL IMPRESSIONS: I won't be trying this one again. It wasn't terrible, but it wasn't very enjoyable either. At 350 yen, I think I would get more refreshment from a vending machine.
How about you guys? Have you tried any fantastic matcha sweets lately? I'm planning to try the McDonald's Matcha McFlurry next. 😀